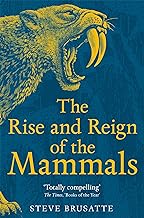 The Rise and Reign of the Mammals hardback
$2600

$26.00
Tax included.
---
---
The passing of the age of the dinosaurs allowed mammals to become ascendant. But mammals have a much deeper history. They – or, more precisely, we – originated around the same time as the dinosaurs, over 200 million years ago; mammal roots lie even further back, some 325 million years.
In The Rise and Reign of the Mammals, palaeontologist Steve Brusatte weaves together the history and evolution of our mammal forebears with stories of the scientists whose fieldwork and discoveries underlie our knowledge, both of iconic mammals like the mammoths and sabre-toothed tigers of which we have all heard, and of fascinating species that few of us are aware of.

For what we see today is but a very limited range of the mammals that have existed; in this fascinating and ground-breaking book, Steve Brusatte tells their – and our – story.
528 pages
Dimensions approx. 16.5 x 24.2 x 4.9cm
---
We Also Recommend