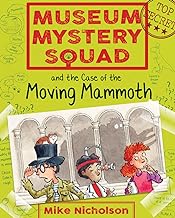 Museum Mystery Squad; case of the moving mammoth book
There's nothing deader than a mammoth -- not just dead but completely extinct. So how can it be moving at night?

Young readers will love the riddles, red herrings and big reveals jam-packed into this fun-filled series of mystery stories by Mike Nicholson. The enjoyable extras like wacky facts and activities, as well as zany illustrations by Mike Phillips, will keep amateur detectives entertained for hours.
Publisher: Floris Books
Number of pages: 128
For ages 6-8 years old
Dimensions: 197 x 158 x 10 mm                                     
---
We Also Recommend