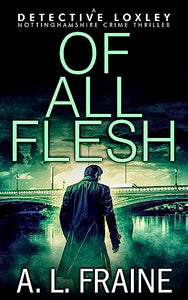 Of All Flesh
Violent abductions, crippling obsessions, and a killer with a taste for the macabre.

A vulnerable young man is attacked and thrown in the back of a van. It's the latest in a string of attacks on those at the edges of society. But this time there's a witness, and she knows DI Rob Loxley, and DC Scarlett Williams.

Diving into the case, they uncover more than they ever expected. But as they deal with a community living in fear and vicious gangs, a killer stalks the streets, hunting for more victims. As the violent nature of the crime becomes clear, Rob is left to wonder, why does the killer take the bodies with them?

Still reeling from the actions of the Mason gang, Scarlett has returned to work, but with a new and relentless focus on one thing; Bringing down the gang. She'll make them pay for what they did if it's the last thing she does.
But as the unit embark on a daring operation against the gang, will Scarlett's obsession push her to new heights, or consume her utterly?

As the abductions continue, becoming ever more brazen, the killer taunts Rob and his team with a crazy manifesto.
Rob and his team must find the killer before it's too late.

This is book 4 in the Rob Loxley series.  327 pages
---
We Also Recommend