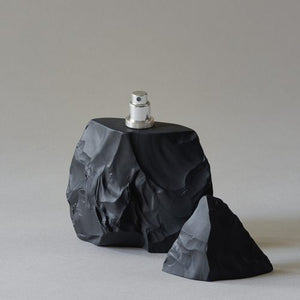 Neandertal Dark EDP 90ml
£25500

£255.00
Tax included.
---
---
The darker, more shadowed version of Neandertal. A scent of movement that challenges perfumery conventions.
The top note structure of Neandertal dark comprises leafy, aromatic and textural sensations, symbolic of nature; trees, plants, flowers and citrus fruits.
Initially, pepper berries and incense clash against this delicate foliage accord, pushing, pulling and in time combining to create a transgressive and original iodine profile as Neandertal dark evolves.
Sandalwood and cedar provide a durable foundation for Neandertal dark. The inclusion of oud and leather adds unusual animalic depth and resinous shadow.
Earthy rhizome materials reintroduce the familiar green facets in a darker manner. An accord comprising vetiver, patchouli and musk is offset against amber bringing both vibrancy and richness to Neandertal dark.
Top : Foliage, Ginger, Pink Pepper, Grapefruit & Pine.
Heart : Incense, Geranium, Caraway & Seaweed.
Base : Vetiver, Patchouli, Oud, Amber, Musk, Leather, Sandalwood, Tobacco & Labdanum Absolute.
This perfume is not suitable for international shipping due to the alcohol content
Year : 2018
Content : Unisex Eau de Parfum – 90ml / 3.0 fl. oz.
Origin : London, United Kingdom
Bottle dimensions : H 13cm x W 10cm x D 5cm
Material : Handmade porcelain
Perfumer : Euan McCall
Packaging dimensions : H 13cm x W 15cm x D 6cm
Each bottle is handmade by the artist Kentaro Yamada.
Each of our 90ml stoneware bottles is uniquely numbered digitally using an NFC chip to ensure its provenance. Scan your bottle using the Neandertal App on iPhone or any NFC-enabled Android device to see more information.
---
We Also Recommend