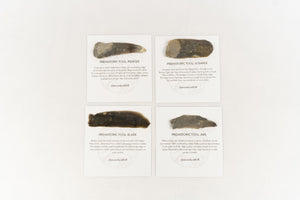 Blade Tool Kit
$3300

$33.00
Tax included.
---
---
This is a prehistoric tool kit.
The kit comprises of a piercer, these were used for making holes in a variety of materials from bone, antler, stone, leather and wood. When it became blunt, the tip would be lightly reflaked and shorter, like a favourite pencil.
There is a burin which was used to carve and score lines into stone, bone and antler.
The blade tool has a sharp edge so was a very useful part of the tool kit
The awl was used to when a hole was needed on a bone or piece of leather. With a refined tip, awls could be easily broken if not used properly. 
All these tools are handmade in the way they would have originally so each one is unique and the tools you receive may look a little different to these
---
We Also Recommend