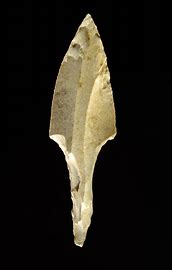 Font Robert Point
$3900

$39.00
Tax included.
---
---
This type of tanged blade point was initially identified and classified as a projectile point. While this may have been the case in some instances, some experimental Archaeologists, have suggested that by design they also serve extremely well as hafted knives.
The tang can easily be inserted into a deer antler or wooden handle, providing a knife that would function much the same as a modern knife. 
This replica tool has been handmade and so varies in size from 12-13 cm long including the tang.                                                                                                                                  The item received may be slightly different in colour/appearance to the image due to natural variations in the flint rock.
This replica tool is very sharp and should not be purchased by anyone under the age of 18. This tool is not a toy.
Dimensions approx.: 11.5 x 3.7cm
---
We Also Recommend