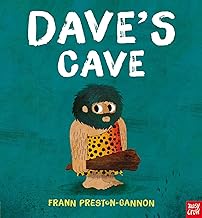 Dave's Cave book
Dave loves his cave. Inside, it's decorated EXACTLY the way he likes it. Outside there is a lovely spot for a fire and the grass is always lovely and green. But Dave is unhappy. What if there might be an even better cave out there?
When he sets in search of a new home, it turns out that good caves are hard to find. They're either too small, or too big, or too full of bats, until he finds one that looks MUCH more promising. Outside has the perfect space for a fire and the grass is greener than any he's ever seen . . .
But why does it look so familiar?
Written in hilarious caveman language that children will love to copy, Dave's Cave is laugh-out-loud funny and perfect for reading aloud. A stylish, witty picture book with a poignant message – sometimes you have to find out for yourself that there really is no place like home.
For ages 2-5 years old     16 pages
Dimensions approx.: 25.2 x 27cm
---
We Also Recommend