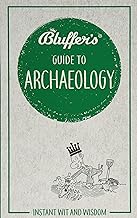 Bluffers Guide to Archaeology book
Instantly acquire all the knowledge you need to pass as an expert in the arcane and labyrinthine world of archaeology. Know where to dig, how to dig, why to dig and even what to say about the dig. Never again confuse a hypocaust with a hypothesis, a mastaba with something best kept to yourself, and the exemplary digger, womaniser and TV personality, Sir Mortimer Wheeler, with anyone resembling a self-effacing academic.
Bask in the admiration of your fellow undergraduates as you pronounce confidently on the merits of interpretive (correct) and post-processual archaeology, and hold your own against the most pretentious of archaeological 'experts'. There's no shortage of them.
DO SAY: (when confronted with a particularly irritating example of archaeological pomposity): 'This violates my sense of epistemology'.
DON'T SAY: 'Where's your hat and whip, Indiana?'
128 pages
Dimensions: approx. 11.11 x 17.78 x 1.27cm
---
We Also Recommend